A New Option for Patients Seeking Fluoride-Free Dental Care
Fluoride hesitancy, defined as concerns around using fluoride, can arise in parents of young children. Some parents will go as far as refusing fluoride treatment for their children at dental offices due to their concerns. And now there is an option for your patients that prefer not to use fluoride.
Kinder Karex is a solution for patients that want to care for their children's teeth while opting for the fluoride-free route.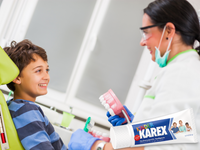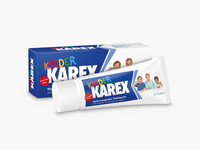 Kinder Karex Benefits
✔️ Contains BioHAP (biomimetic hydroxyapatite) 
✔️ Safe if accidentally swallowed 
✔️ For all ages
✔️ Kid selected and approved taste 
✔️ No parabens
✔️ No SLS 
✔️ Fluoride-free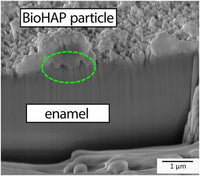 How does it work?
Kinder Karex uses an approach that mimics the natural tooth structure. It uses BioHAP, a biomimetic hydroxyapatite. It consists of 10% hydroxyapatite in a microcrystalline form that attaches to the enamel. Small, rod-shaped HAP crystallites cluster together form micrometer-sized particle as seen in the image to the left.
Kinder Karex has been tested to be gentle and effective. It is made for daily use with a medium-abrasivity, which is classified between RDA 40 to 80.
* Image of HAP particles attaching to the enamel surface.
Is BioHAP safe to use?
Because the tooth's enamel and dentin is made of 97% and 70% hydroxyapatite respectively, the body recognizes BioHAP as a familiar structure that belongs there. Hydroxyapatite is non-toxic and safe if accidentally swallowed. If ingested, it is broken down and digested by the body.
Randomized controlled clinical trials have led to approvals of hydroxyapatite as an anti-cavity agent in Canada in 2015 and in Japan in 1993. In fact, hydroxyapatite is a gold standard in Japan for fluoride-free oral care. However, in the US the FDA has not approved hydroxyapatite or its claims to combat cavities.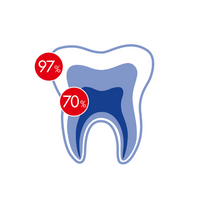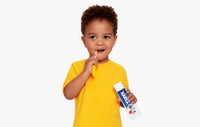 Why do patients love it?
Parents with independent children don't have to worry if more than a pea-sized amount ends up on the toothbrush or worry if the toothpaste is accidentally swallowed.
Kinder Karex has a mild mint flavor that is not too "spicy" and that was approved by children for children. When it comes to brushing teeth, the taste needs to be different than the typical sweet or candy-like flavor. This is so a child understands sweets are not good for their teeth and that she or he is doing something for their health when they brush their teeth.
Full Ingredient List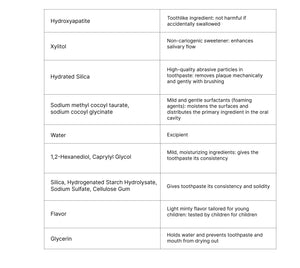 Request Patient Samples
Free patient samples are now available for dental offices while supplies last. Samples come in 15ml tubes with 25 samples per box.
Wholesale Request
If you would like to purchase full-sized tubes of Kinder Karex for your dental practice, please start a wholesale request form.
If you would like any more information or still have questions send us an email at karex@dr-wolff.us.
*Claims not reviewed or approved by the FDA